I saw a study once showing that the incidence of headaches in the U.S. has grown in proportion to the volume of advertising of headache medicines. Is that cause or effect? Does marketing actually create the need? I think there's research about some other manufactured needs. Marketers didn't invent bad breath or body odor, they just increased the awareness.
I grew up aware of yellow teeth because of the Pepsodent commercial, pervasive in my time, "you'll wonder where the yellow went when you brush your teeth with Pepsodent." When I was in grad school back in 1970, the dean of the Journalism school, an advertiser, told us that this was the most effective advertising campaign in history.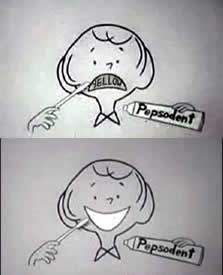 I'd like to think that marketing is about identifying needs and wants, not creating them; more like filling them with business offering. And given that you need to know people to understand their needs and wants, the finer the aim on target, the better. Or at least that's what I hope.
There's a line in Sheryl Crow's song, Soak Up the Sun:
It's not having what you want; it's wanting what you've got.
Then there's Seth Godin's post today, Destroying Happiness.
Why are so many people happy? "What you have doesn't make you unhappy. What you want does."

And want is created by us, the marketers.
Maybe. Can marketing create headaches? Sure. Bad breath? Have you seen the commercials about bad breath in dogs? Is that good marketing? How about targeting and product development?
Several world views relate happiness to not wanting things. That's very Zen. Pretty Christian too, from what I know, and Jewish, and probably Muslim, but then I'm hardly an expert. That's just my impression.
The new world, I hope, is about identifying and filling needs and wants that already exist. That's better business. Cheaper marketing. It doesn't have to be a better mousetrap, it might just be a more specific cable channel or website, or better target marketing in clothes, food, housing, and even energy.