I liked the phrase social entrepreneurship instantly when I first heard it. It's doing well by doing good, I assumed, building businesses that help people. A business doesn't have to not make a profit to do good, so the idea of social entrepreneurship makes sense.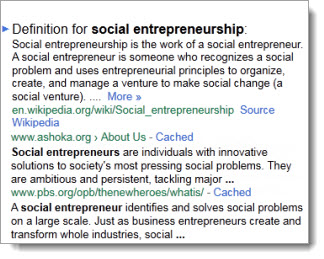 Teach kids to read, help people stay healthy, clean the environment, fight discrimination, and make a fair profit doing it. The world will be better for it.
But wait: Don't all businesses have to make the world better, and solve problems, just to survive over a long term?  A business can poison people or the Earth, or cheat people, for a while, maybe … but eventually that business will die.  Won't it?
So doesn't all new business have to be social enterprise? Or is it not so much doing good as just simply not doing harm? That's a tough question.
Confused, I asked  Google to define: social entrepreneurship. The illustration here shows some of what comes back. It talks of making social change, solving social problems, and creating innovative solutions to society's most pressing social problems.
What's hard, though, is working some of this into real life. If social enterprises solve "society's most pressing problems," then damn, that rules out a lot of very good and very well intentioned business that I would have called social enterprise.  Does a restaurant serving healthy, local, organic  food qualify? How about a business selling all-natural no-animal-testing cosmetics? What about a business selling electric cars? Chevrolet and Nissan (the Bolt and the Leaf) are social enterprises now?  And if you start to expand, then what about AT&T (communication) and Exxon (energy)? Are they social enterprises? Maybe they trip up on the "innovative" qualifier, as in "innovative solutions to society's most pressing problems."
I'm still confused. I will say, though, that in my lifetime I've seen a gradual but steady increase in the general consumers' concern for social and environmental considerations. Frustratingly slow, perhaps, but it's there. And it also seems like we're in a new age of transparency, whether the big behemoth companies like it or not; bad businesses have trouble keeping their badness secret for very long.
The underlying story of a business, the people behind it, and its values, these all matter more now than they used to.
Or am I just being too optimistic?