Jolie O'Dell is a journalist who blogs. She cares about journalism, I gather, because of the way she writes about it in posts like How to Tell a journalist from a Blogger and Not all bloggers are journalists and not all journalists are jerks on her own blog. Most of the time, though, she's a very prolific tech writer for Mashable.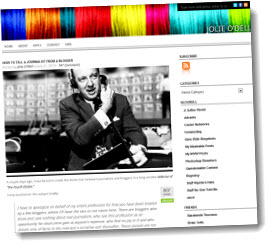 And what she does for Mashable, one of the top techie blogs in the world, is technology journalism.
I really like her vision of what makes a journalist, as opposed to "just" a blogger. In that journalist or blogger post she says journalists are trained in journalism (and she means they have a degree in it), they aim for objectivity and truth, they care about form, they're skeptical, and they serve the people. She makes it sound like a profession; like the quality matters.
I loved this down-home real-world description of a critical difference between journalists and bloggers. I'm quoting her here, journalists, she says, get used to editing, which she calls "having your work get ripped to shreds." This is good writing. I've been there myself:
As a result, you do not get offended when your editor tells you, and I quote, "Jolie, this sentence fell off the ugly tree and hit every branch on the way down." (Marshall Kirkpatrick, ReadWriteWeb) You begin to look at your writing the way a stranger would. You see the errors, the ugliness, the factual haziness, the sloppy turn of phrase. And you or your editor make repairs as needed without much fuss.

These words aren't your limbs, your children, your masterpieces. They're simply another grouping of column inches or another few hundred words to fill up the "news hole." You're not married to them, because you'll be on to a new collection of words within an hour or two. With any effort, the next article will be better written than the last as you quickly learn from your mistakes.

The blogger is an autonomous creature, not accustomed to being under the scrutiny of a professional editor. He hasn't had his work and soul trampled quite as mercilessly — although commenters can be cruel bitches, it's true — so he's a bit more attached to his words. Also, his words are more frequently tied to his personal ideas. More on that in a bit.
This brings back my own fond memory of UPI overnight editor Norberto Swarzman, who managed the New York Latin America desk for United Press International (UPI) when I was on the night desk in Mexico City, back in the early 1970s. I was very young, and he wasn't. He was a frequent caller.
"Berry," he said, more than once, "you write like a god-damned literature major."
I'd finished class work for an MA in Journalism to add to the lit degree by then, but the only way to soften the abuse, long term, was to write better. In his terms, not mine. Later, when I finished a thesis and actually got that MA in Journalism officially, the Dean of the J-school at University of Oregon told me his only complaint with my thesis was:
"Your writing style is not academic enough. You write like a wire-service journalist."
You might guess, if you knew my background, that I was going to like Jolie O'Dell's respect for journalism. I do have the degree, and I did spend nine years as foreign correspondent in Mexico before quitting to get the MBA. And I'm delighted to see a 20-something professional journalist come up with the same kind of respectful view of why journalism matters that I'd learned 40 years ago.
I've come full circle, from journalism to entrepreneurship and lately to blogging. And I have no problem at all with her saying blogging is easier. Her kind of journalist researches and interviews to generate actual information, not just good writing. And then cites sources and quotes people with their actual words. I used to do that. Back then, as a journalist, I couldn't write anything ever just because I knew it was true. That was really hard. I couldn't just write what was true, back then; I had to quote somebody.  And we didn't have the Web, not even cell phones, so I actually had to get that somebody on the phone, at least, and talk to them, I have no problem recognizing that blogging, which is basically me writing to you about whatever I can come up with as long as I don't bore you, is a whole lot easier. Today, as a blogger, I get to be me. I can have opinions.
As you probably guessed, controversy followed Jolie O'Dell's journalist vs. blogger piece. A lot of bloggers don't like to be told they're not journalists. And journalists without degrees don't like to be told they need a degree. There's a reference to "English-degree journalists" who don't like to be told they're not journalists unless they have a degree. And a lot of people think any hack getting paid to fill news space between ads is a journalist. I followed the controversy from the original post to some heated words (and a lot of praise) on Twitter, and a thoughtful follow-up post by journalism professor and journalist Kirk LaPointe, punctuated by some surprisingly emotional comments.
The "trained in journalism" mention is galling to many. and O'Dell distinguishes journalists from writers, casts some doubt on "English-degree journalists," and accurately predicts the objections that followed. I loved her best-defense-is-a-good-offense conclusion:
If you're a blogger and you've been offended somehow by my piece, ask yourself why — I highly suspect it's because I called some behavior of yours out as not being "journalist-y" enough. While it's true that we all hold ourselves to different professional standards, the above are pretty basic. If you feel threatened or attacked by what I've written, I suggest you get back at me by taking a couple journalism classes at a community college and doing an internship at a local newspaper; it'll change your writing and your life.
So why do I care? Why does anybody care?  It's because we still need journalism and we're starting to confuse blogging with journalism. But then it gets confusing when we have excellent journalism showing up on so-called blogs like Mashable, or the mix at Huffington Post, which gathers the news – including with its own reporters – but also indulges in lots of blogging opinion. Mashable is a blog. Jolie O'Dell, writing on Mashable, is a journalist. If you have any doubt, look at her work on Mashable.
There has always been an awkward gap between journalism as trade and journalism as profession. Doctors need med school and exams, CPAs have their boards of standards, and dentists, vets, psychologists, and other so-called professionals have their licensing and standards. And we do have schools of journalism and professors and degrees and journals and standards. But still, give any hack a few dollars for writing anything that gets published as news, and then we call that hack a journalist.
And then you add in the ease of entry in blogging – sign up at WordPress or Blogger or TypePad and start publishing – and I for one am glad to see the occasional reminder of what journalism is supposed to be.
On the other hand, do you know who H.L Mencken was? One of the best journalists ever, a reporter for the Baltimore Sun, as famous a journalist as any in his time. Google "H.L. Mencken quotes." He first wrote "nobody ever went broke underestimating the intelligence of the American public." And he didn't have a degree in journalism.