I'm happy today to not be the author of Marketing Plan Pro. Why? Because the author of the new version is John Jantsch, marketing guru, the man who built Duct Tape Marketing.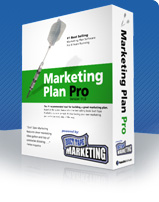 Getting John on board was a big deal for us. He's the ideal author of marketing plan software.
Not that it wasn't very easy to work with him. He's a hero around our offices: smart, unassuming, fun, and effective. The ideal partner. So on the contrary, it's been a pleasure to develop the new version together.
What's really the big deal is moving our platform beyond the single-intellectual-author model that we've had for more than 20 years, built around my relationship with Business Plan Pro and Business Plan Pro Premier. I love business planning, I work with it almost every day, and I write about it constantly. It's easy for me because I believe in it.
The trouble was, as the company evolved, that we weren't leveraging that model with other experts in other areas.
That is, we weren't doing that until now, with the release of the new Marketing Plan Pro 11. Now we are. In the same way that I live and breathe business planning, John loves marketing, and his "Duct Tape" genius has given marketing a much better place in the world of small business. John's kind of marketing is accessible, manageable, and practical (Duct Tape is a great name for it). He loves it, he works with it every day, and writes about it constantly. It's easy for him because he believes in it.
I've come to believe that this kind of business, the expert-in-a-box (sort of) that we've built with Business Plan Pro, needs authorship. Our product development team does the code, and the interface, so they're the ones who really build the software (and it's a team, in fact the largest team in our company). No one individual could do that. But the core content, the idea of it, the main concepts take living with, and working with, those elements come out best when there's an expert as author. As John is with Marketing.
This is the second big release of the new management team that took over Palo Alto Software last year. I'm really proud of this product, and proud of that new team.