So, on last day of the year, eve of a new year and (I think … correct me if I'm wrong) a new decade, Steve Blank posted his optimistic 2011 may mark the beginning of a golden era for entrepreneurs on VentureBeat.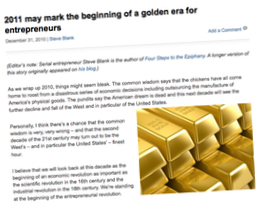 He cites several reason, all of which make sense to me:
Compressing the product development cycle.
Startups Built For Thousands Rather than Millions of Dollars.
The New Structure of the Venture Capital industry.
Entrepreneurship as Its Own Management Science.
Consumer Internet Driving Innovation.
Interesting: thoughtful, and well reasoned. Let's hope he's right.